Downhole Tools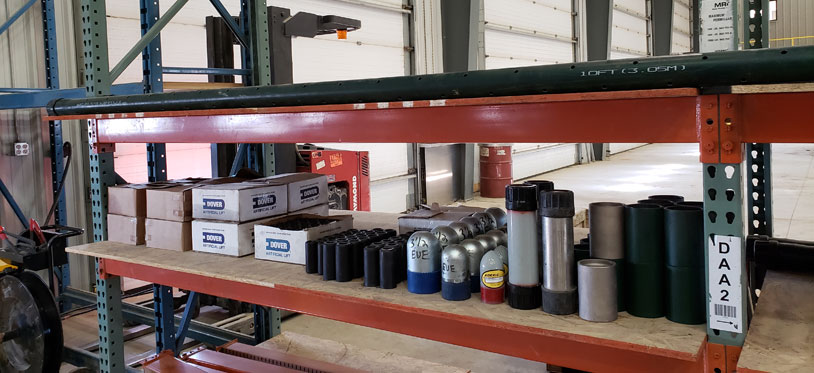 Here at Thirsty Bird we stock a large selection of pipe, valves, flanges, fittings, downhole supplies, belts, sheaves, hubs, bearings, and general day to day supplies.

DOWNHOLE SUPPLIES
Norris pony rods
Sucker rod couplings, polish rod couplings and changeovers
Polish rods and liners, N-50, spray metal, and 4140
Pup joints, regular and perforated J55 and L80
EUE couplings, and crossovers
Specialty tubing products www.zerocor.com
Spirit hybrid gas and solid seperators www.apergyals.com
Packer Style Gas Separator
The SPIRIT Gas Separator is a simple, effective downhole tool that is ideally positioned between the packer and rod pump to prevent gas from entering the pump and reducing its efficiency.
Particularly suited for applications including high-GOR production flows, horizontal completions and above-the-perf completions, the separator virtually eliminates the common problems of poor pump performance and gas-lock. Using a patented internal baffling system, the tool agitates and breaks apart high GOR emulsions for effective separation of gas and liquids. Pure production fluid is fed to the pump, while gas exits the tool and is produced up the casing string.
You experience more reliable pump performance and decreased downtime, from a self-contained separator with no moving parts and low maintenance requirements. The SPIRIT Downhole Separator is manufactured from durable, corrosion-resistant materials for successful operation in even the harshest of downhole environments.
Hybrid-X Gas | Sand | Solids Separator
The Hybrid-X Downhole Gas/Sand/Solids Separator is a revolutionary, patented technology that eliminates both gas and sand/solids pump interference. Using cyclonic motion and internal baffling, the simple and effective tool achieves downhole separation for production volumes of up to 300 bbl/day depending on tool sizing.
Specifically designed for treating production flows with higher gas volumes and significant sand/solids contamination, the Hybrid-X design provides several key benefits:

No packer needed
Agitates and breaks up gas-fluid emulsions
Captures sand and solids in the mud joint
Clean, gas-free production fluid fills the pump intake, permitting greater production and pump efficiency
Reduces excessive pump wear, sticking plungers, surface equipment wear and damage, and fouling of the flow line and pump
Restores and optimizes rod pumping efficiency and extends component life
Increases production output and decreases maintenance costs.

The system is available in two sizes—a 2-7/8" version with 2-3/8" pins, a 3-1/2" with 2-7/8" pins and a 4-1/2" with 2-7/8" pins—and is easy to transport, assemble and run in the field.
Solids Separator
The patented SPIRIT Downhole Sand and Solids Separator puts an end to the destructive effects of sand, corrosives and other solids on downhole equipment. The separator permanently removes sand and solids before they can enter the lift equipment, thus preventing the common problems of:

Excessive pump wear
Sticking plungers
Pump fouling
More frequent maintenance
Greater pulling costs
Clogged filters or screens

The separator works by first drawing fluids and contaminants into the Stage 1 intake slots, where downward velocity increases to force sand and other solids toward the O.D. of the tool and downward towards the mud anchor. The fluid continues downward where it is forced past a centrifuge system. The remaining smaller particulates are once again forced to the O.D. of the tool, past the dip tube intake and into the mud joints to settle.
The SPIRIT Sand and Solids Separator has a proven track record of lowering field maintenance frequency and costs while boosting production. The separator has been shown to reduce the frequency of pulling a downhole pump for repair or replacement due to erosive or corrosive damage by as much as 300%.
ESP Desander
The patented SPIRIT ESP De-sander is a simple, effective tool that prevents solids from reducing oil production and damaging equipment in ESP-lifted wells.
Using cyclonic motion, the de-sander forces sand to the outer wall of the tool. Clean, solids-free fluid moves upward to a ported sub-packer assembly. Upon exiting the assembly, the fluid travels on the outside of the ESP motors to the pump intake, where it continues its journey to the surface.
Designed for ESP wells with sand-laden production of up to 5,000 bbl/day, the ESP De-sander affords several key features:

Reduces excessive pump wear, surface equipment wear or damage, and fouling of the pump and flow line
Restores and optimizes pump efficiency and assures longer component life
Available in 2-7/8", 3-1/2" and 4-1/2" sizes
Easy to transport, assemble and run.